High Pressure Gas Booster Pump, Air Driven Liquid Pump
High Pressure Gas Booster Pumps are divided into gas-liquid booster pumps and gas booster pumps. The principle of the gas-liquid booster pump is to use the low pressure of a large-area piston to generate high hydraulic pressure for a small-area piston.
Booster Pumps Classification
Gas booster pumps such as nitrogen, argon, oxygen, hydrogen, etc.
Liquid booster pumps such as: water, hydraulic oil, etc.
Air booster pump
Refrigerant booster pump
High Pressure Gas Booster Pump Features
High output pressure: liquid pump up to 640MPa, air pump up to 200MPa
Wide range of use: the working medium can be hydraulic oil, water and most chemically corrosive liquids, and has high reliability and long maintenance-free life.
Wide range of output flow: For all types of pumps, only a small driving air pressure is required to work smoothly. At this time, a small flow is obtained, and different flow can be obtained after adjusting the driving air intake.
Flexible application: choose different types of pumps to obtain different pressure areas.
Easy to adjust: within the pressure range of the pump, adjust the regulating valve to adjust the intake pressure, and the output hydraulic pressure can be adjusted steplessly accordingly.
Automatic pressure maintenance: No matter what causes the pressure of the pressure maintenance circuit to drop, it will automatically start to supplement the leakage pressure and keep the circuit pressure constant.
Safe operation: It is driven by gas, without arc and spark, and can be used in dangerous places.
High Pressure Gas Booster Pump Features and Applications
Driven by a variety of gases: compressed air, nitrogen, water vapor, natural gas, etc. can be used as the driving source of the pump.
Wide range of applications: In the industrial field, it is used for clamping machine tool chucks, accumulator inflation, high-pressure bottle inflation, and conversion of reduced-pressure gas to high-pressure gas, etc. Where the pressure of the air source is not high enough, whether it is a machine or a test device, a booster pump can be used.
Automatic pressure maintenance: No matter what causes the pressure of the pressure maintenance circuit to drop, the booster pump will automatically start to supplement the leakage pressure and keep the circuit pressure constant.
Safe operation: It is driven by gas, without arc and spark, and is completely used in places with flammable and explosive liquids or gases.
Simple maintenance: Compared with other air-driven pumps, booster pumps can do the same work, but with fewer parts and seals, easy maintenance
High cost performance: The booster pump is a plunger pump. When working, the booster pump reciprocates rapidly. As the output pressure increases, the reciprocation of the pump slows down until it stops. At this time, the pressure of the pump is constant and the energy consumption is the lowest. All parts stop moving.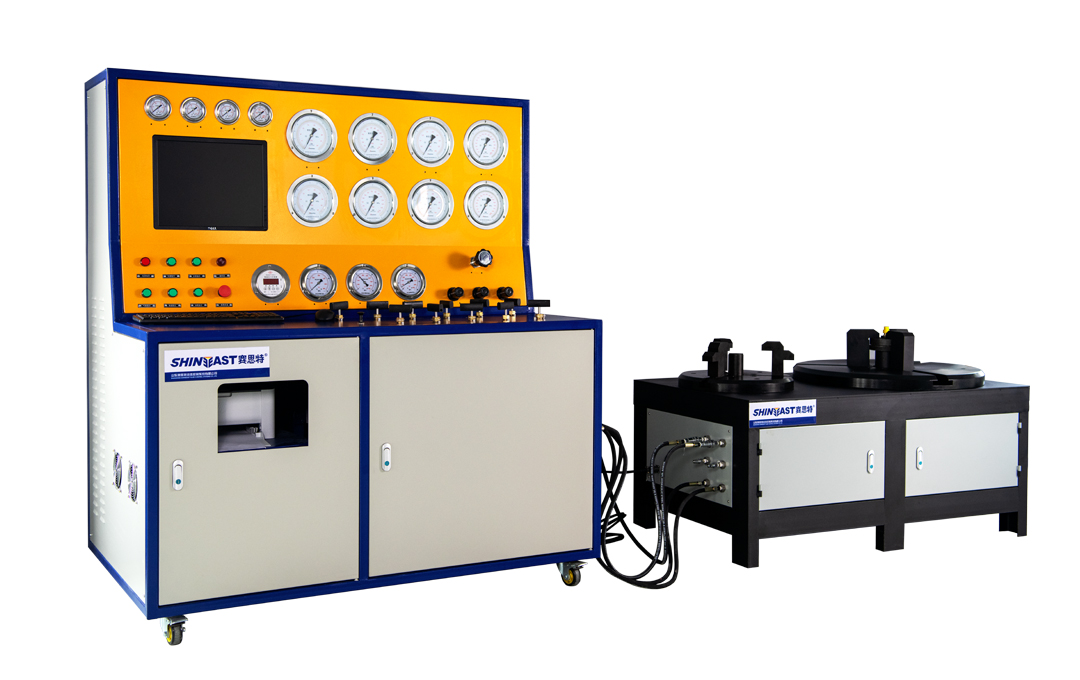 Safety Valve Test Machine, Pressure Relief Valve Test Bench, Valve Test Bench, Pressure Test Machine for Safety Valve, Pressure Relief Valve Test Machine, Computer Control Safety Valve Test Machine, Automatic Control Safety Valve Test Bench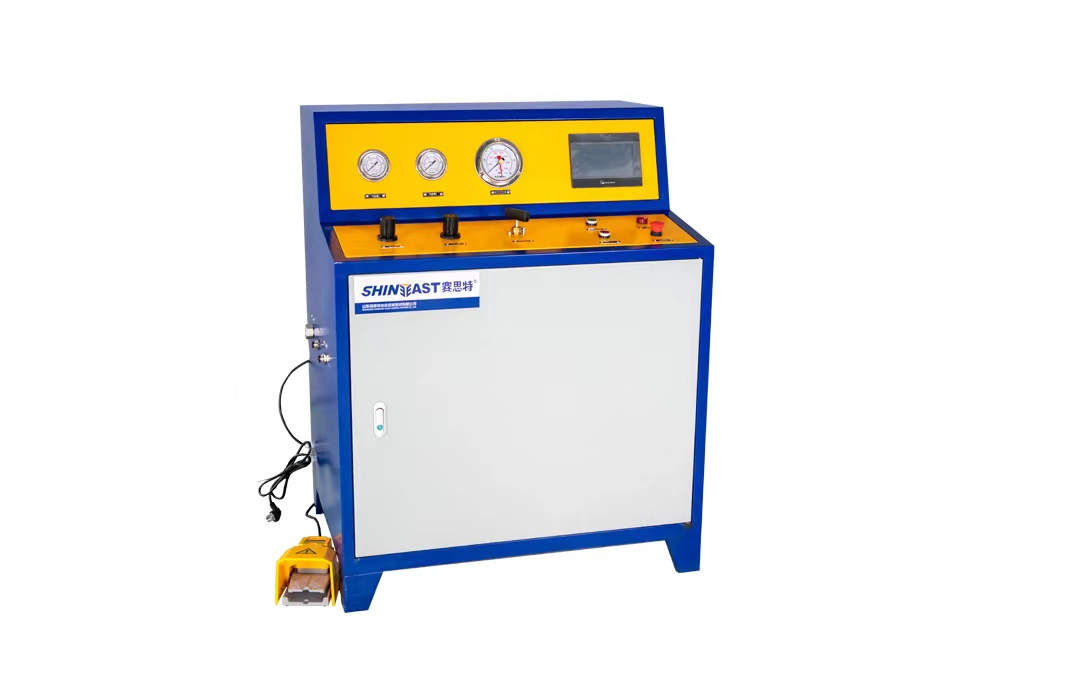 Radiator Tube Expansion Machine, Hydraulic Expansion Machine for Radiator Tube, Tube Expander Machine, Tube Expander, Hydraulic Tube/Pipe Expanding Machine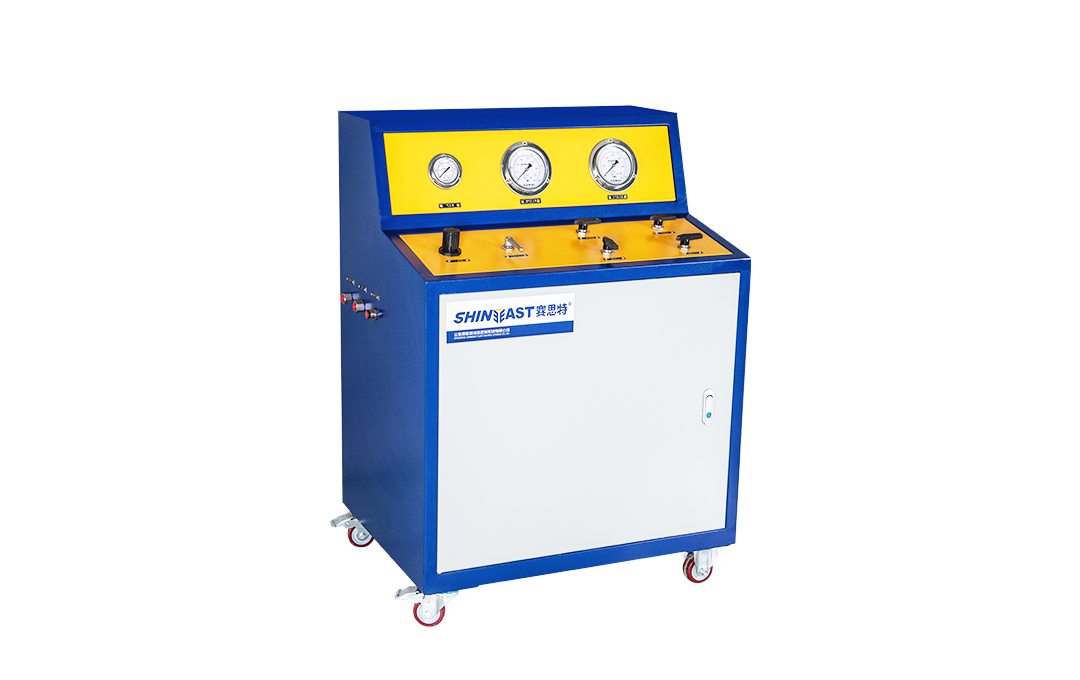 Gas Filling System, Gas Refilling Machine, Gas Filling Station, High Pressure Gas Filling System, Gas Recharging Machine, Gas Cylinder Filling Machine, Gas Filling Equipment, Gas Filling Systems, Nitrogen Recharge System, Oxygen Recharge Systems
LPG filling system, LPG Refilling Machine, LPG Recharging System, LPG recharging machine, LPG filling pump, Filling Machine for LPG Cylinder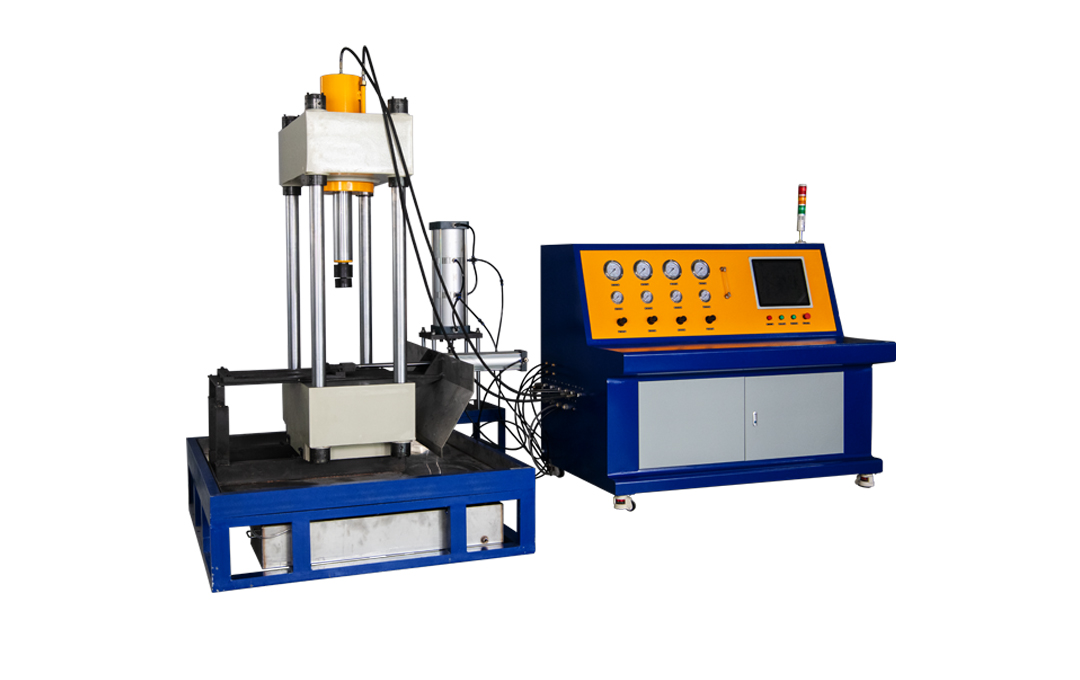 Valves Test Bench, Hydraulic Test Machine for Valves, Pressure Test Bench for Valves, Hydraulic Pressure Testing for Valves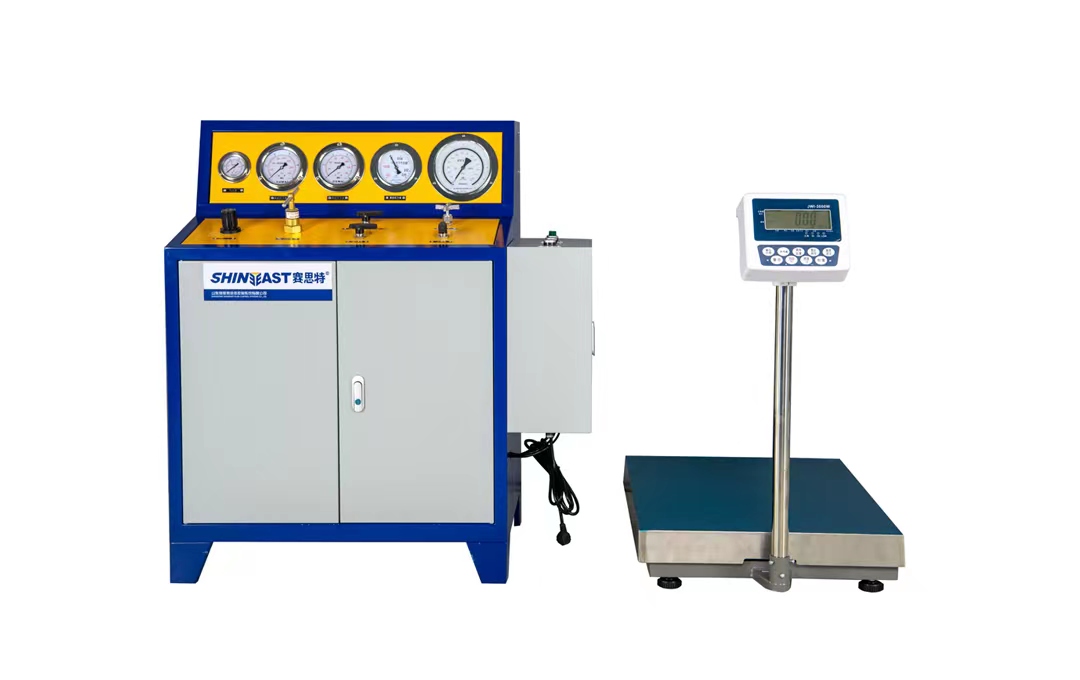 Fire Extinguisher Recharging Machine, CO2 Recharging Machine, High Pressure Filling System
Air Driven Gas Booster Pump Composition and principle
Gas part This part is composed of a lightweight different-diameter piston equipped with O-ring seals and a sleeve with outer glass fiber winding or duralumin coating and epoxy resin filling in the middle, and the piston is placed in the sleeve. The diameter of this air piston is constant for any series of air pumps. When compressed air is fed into the pneumatic device, the piston is forced into the compression stroke, and then the air drives the piston back for the suction stroke (except for M series pumps with spring automatic return function). Unlike many other pumps, pneumatic lines do not require the use of lubricants due to the inherently low-friction nature of the design and lubrication during assembly.
Hydraulic part
The piston/punch rod of the hydraulic device is directly connected with the piston, and its lower end is loaded into the housing of the hydraulic device. Its diameter determines the compression ratio of the pump and thus the output flow and maximum pressure. Its function is to draw liquid through the inlet control valve and let it flow out through the outlet control valve under higher pressure. The unit is equipped with a spring check valve to control the flow of liquid in and out of the channel. When the piston/ram of the hydraulic unit is on the suction stroke, the inlet control valve opens and the outlet control valve is held closed by a spring to introduce liquid into the pump. During the boost stroke, the inlet control valve is closed and the piston/ram of the hydraulic unit forces fluid out through the outlet control valve. The dynamic seal is located around the piston/ram of the hydraulic unit and is a virtually wear-free part. Its function is to contain liquid under pressure during cycling and prevent external leakage or infiltration of gas installations. According to the medium of the pumped liquid, the operating temperature and the boost ratio, different sealing materials and forms are selected. NOTE: Most pumps use a spacer between the pneumatic and hydraulic sections to allow for complete separation and contamination-free operation.
Air circulation valve
This section consists of a controller and a plunger that causes compressed air to flow to either end of the air piston depending on the position status. The piston pushes the control valve at the upper and lower ends of its stroke to alternately pressurize and ventilate the large area of the slide valve to control the reciprocating movement of the air flow to the air piston to maintain a circulating state. When the air is exhausted from the pump, it needs to pass through the exhaust muffler. Unlike many other pumps, the pump is not designed with a metal-to-metal tight fit, which prevents air leaks that would cause the plunger to cease operation.
Air Driven Gas Booster Pump Selection method
What is the pressurized medium?
Pneumatic gas booster pumps are divided into gas booster pumps and gas-liquid booster pumps. The working principles of the two pumps are the same, but there are differences in structure. The gas booster pump is suitable for the boosting of clean compressed air and high-purity gas, and the gas-liquid booster pump is suitable for water, hydraulic oil, kerosene and other liquids with less impurities and low viscosity. Different media need to choose different seals to suit.
Where to use it?
Pneumatic gas booster pumps are suitable for occasions with high pressure and small flow, suitable for scientific research, testing, testing and other occasions, but not suitable for civil and large flow output occasions.
How much traffic?
Especially for gas pressurization, gas is divided into standard flow and working state flow. Generally speaking, everyone talks about standard flow.
What is the inlet pressure of the pressurized medium?
Gas-liquid booster pumps generally have no requirement for the inlet pressure of the liquid. Most gas booster pumps require a certain pre-pressure of the gas. The size of the pre-pressure will determine whether to use a single-stage gas booster pump or a two-stage gas booster pump first. Pump.
Is there compressed air on site?
Pneumatic booster pumps are driven by compressed air, and compressed air is the key. Choosing a different pump will determine the compressor with a large displacement.
SHANDONG SHINEEAST FLUID CONTROL SYSTEMS CO., LTD.
Shandong Shineeast Fluid Control Systems Co., Ltd., founded in 2001, is a professional manufacturer of highly engineered fluid and gas handling equipment designed to generate, store and control high pressure gases and liquids.
In addition to offering a comprehensive range of air driven liquid pumps, air pressure boosters, air driven gas boosters, high pressure valves, fittings and accessories, pnematic power packs and hydraulic presses, pressure test machines, valve and pipe fittings test equipments, finishing pumps and related equipments, gas cylinder test equipments and the oil and gas field special controls and test equipments, we customize and build pneumatic power packs and test equipment. Our main manufacturing locations are fully registered to ISO9001 and CE.
Our products are widely used in industry, machine tool industry, diesel engine industry, aerospace industry, automobile manufacturing, household electrical appliances, industrial electronics industry, shipbuilding industry, petrochemical industry, oil and gas field, CNG vehicle conversion industry, pressure test industry and other fields.
Shineeast also has a strong commitment to providing you with high quality products as well as excellent service and technical support; and we have built an enviable reputation for quality in the world market. This helps to keep Shineeast as the best choice for all of your high pressure requirements.
We are here to solve your problems. Please contact us to discuss your requirements or visit our website at www.cnshineeast.com for more information.
FAQ
What are your prices?
Our prices are subject to change depending on supply and other market factors. We will send you an updated price list after your company contact us for further information.
Do you have a minimum order quantity?
Yes, we require all international orders to have an ongoing minimum order quantity. If you are looking to resell but in much smaller quantities, we recommend you check out our website.
Can you supply the relevant documentation?
Yes, we can provide most documentation including Certificates of Analysis / Conformance; Insurance; Origin, and other export documents where required.
What is the average lead time?
For samples of air driven booster pumps, the lead time is about 5-7 working days; for samples of pressure test machines, the lead time is about 15-20 working days. For mass production, the lead time is 25-40 days after receiving the deposit payment. The lead times become effective when (1) we have received your deposit, and (2) we have your final approval for your products. If our lead times do not work with your deadline, please go over your requirements with your sale. In all cases we will try to accommodate your needs. In most cases we are able to do so.
What kinds of payment methods do you accept?
You can make the payment to our bank account, Western Union, or L/C. For orders with small amount less than USD20000.00, the payment term is 100% T/T in advance; for orders with large amount more than USD20000.00, the payment is 50% deposit in advance, 50% balance before delivery.
What is the product warranty?
We warranty our materials and workmanship. Our commitment is to your satisfaction with our products. In warranty or not, it is the culture of our company to address and resolve all customer issues to everyone's satisfaction.
Do you guarantee safe and secure delivery of products?
Yes, we always use high quality export packaging.
How about the shipping fees?
The shipping cost depends on the way you choose to get the goods. Express is normally the most quickest but also most expensive way. By seafreight is the best solution for big amounts. We can offer you exact freight rates if we know the details of amount, weight and way. Please contact us for further information.
Contacts
China-Europe Intelligent Port, Industrial Development Park, Gaoguanzhai Town, Zhangqiu District,
Jinan, ShanDong, China, 250200
Ms.Karen ChangWeChat/Mobile: +86-15552899768
Whatsapp: +86 18506419695
Tel: 0086-573-12345678
Fax: 0086-573-12345678
Mail: [email protected]
Web: www.cnshineeast.com