High Pressure Test Bench
High-pressure test bench, suitable for blasting tests
High Pressure Test Bench Application
0-300Mpa static pressure and hydraulic test, which can meet the explosive test of pipe fittings, valves, gas cylinders and other products.
High Pressure Test Bench Features
Equipped with a liquid booster pump, the output pressure can be easily adjusted and controlled arbitrarily, and it has a memorized instrument to record the instantaneous burst pressure.
Advanced technology and reasonable structure design. It has the characteristics of small size, light weight and beautiful appearance.
All pressure-bearing parts are standard parts of international famous brands, without any welding connection, easy to disassemble, high safety factor, long life and easy maintenance.
Manual control, digital display pressure gauge display, computer control and other operation methods can be selected.
Technical Parameters
Driving air pressure range: 0.1-0.69 Mpa; and the output pressure is directly proportional to the driving air pressure.
Maximum air consumption: 0.6Nm3/min
Pressure test range: 0-5Mpa, select the corresponding pressure according to the actual needs of customers.
Safety Valve Test Bench
The safety valve test bench uses high-pressure gas as the medium to test the tightness, take-off pressure, and seatback pressure of the safety valve. Performance testing of various safety valves such as thick and thin flanged safety valves.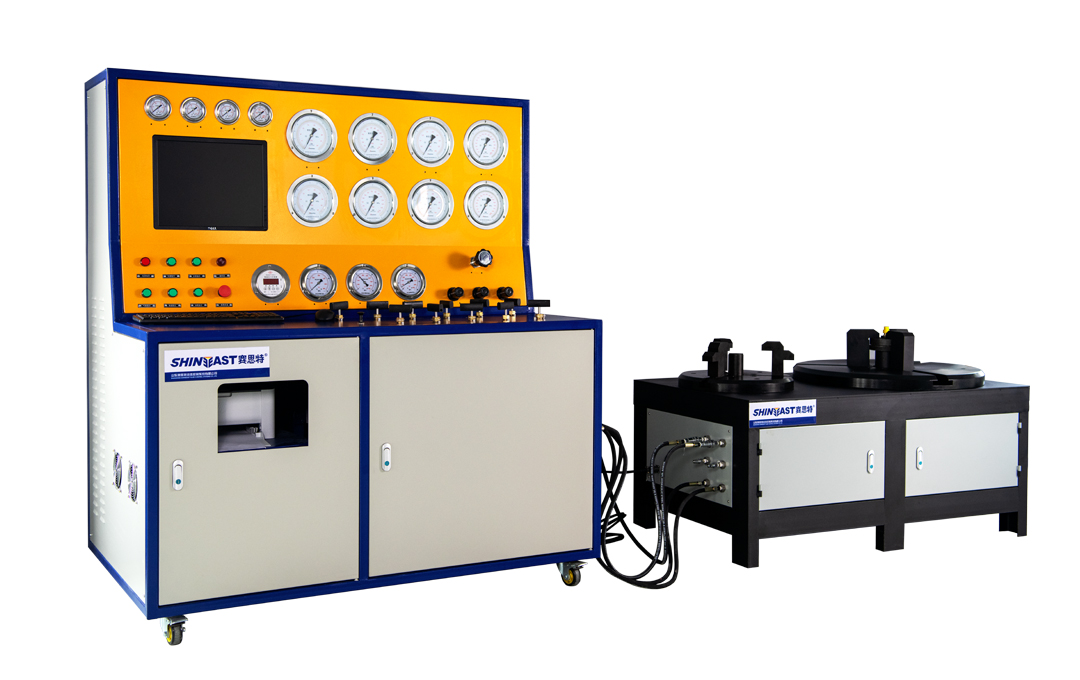 Safety Valve Test Machine, Pressure Relief Valve Test Bench, Valve Test Bench, Pressure Test Machine for Safety Valve, Pressure Relief Valve Test Machine, Computer Control Safety Valve Test Machine, Automatic Control Safety Valve Test Bench
Shineeast safety valve test bench uses high-pressure air as the medium to do testing for the sealing performance, and uses Shineeast high pressure pump as the power source to realize activated pressure testing and reseating pressure testing of the safety valve.
Reference standards:
GB/T12241 General Requirements for Safety Valves
GB/T12242 Performance Test Code for Pressure Relief Devices
GB/T12243 Spring Directly Loaded Safety Valves
Applications:
Performance test of DN32~400mm flange type safety valve, thread type safety valve, full lift/micro lift type safety valve, conventional thick and thin flange type safety valve, domestic/imported safety valve, spring directly loaded safety valve, safety valve with power auxiliary function and safety valve with supplementary load.
Technical parameter:
1. Testing pressure: 0-35Mpa
2. Control mode:manual control or computer control(according to customers' requirements)
3. Test medium: air
4. Test pressure output: one station
5. Diameter of test valve: DN 25-400mm
6. Pressure control accuracy: ≤± 1% F.S;
7. Pressure measurement accuracy: 0.4 level pressure gauge (higher pressure level is optional);
8. Measuring range of pressure gauge: 0-2.5MPa, 0-10MPa, 0-25MPa, 0-40MPa, 0-60MPa (optional as required)
9. Clamping mode: pneumatic driven liquid pump clamping;
10. Clamping force output range: 0-50 tons;
11. Sealing method: sealing with sealing ring;
12. Driving air source: 5-7bar, maximum air consumption: 0.8 m3/min;
13. Compressed air quality requirements: filtering accuracy: 15 μ m; Atmospheric dew point: 3 ℃; Oil content (PPM): ≤ 5.0