Safety Valve Test Bench
Safety Valve Test Machine, Pressure Relief Valve Test Bench, Valve Test Bench, Pressure Test Machine for Safety Valve, Pressure Relief Valve Test Machine, Computer Control Safety Valve Test Machine, Automatic Control Safety Valve Test Bench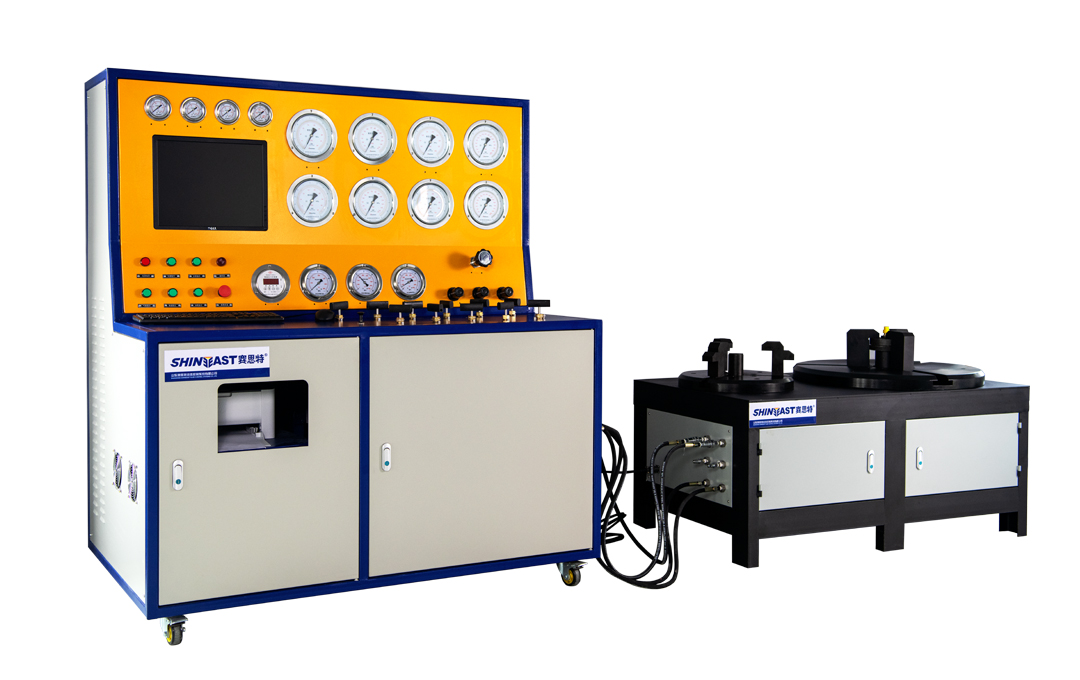 Safety Valve Test Machine, Pressure Relief Valve Test Bench is used for comprehensive performance testing of safety valves, including design performance tests of gas safety valve flow rate, cracking pressure, cracking pressure difference, and cracking height. The equipment has advanced design principles, and adopts the Simint data acquisition system, which can store and retain the safety valve measurement data for a long time, query and generate hard copies and archives, and can directly generate verification reports with computer database storage.
Shineeast safety valve test bench uses high-pressure air as the medium to do testing for the sealing performance, and uses Shineeast high pressure pump as the power source to realize activated pressure testing and reseating pressure testing of the safety valve.
Features of Safety Valve Test Machine
Spring safety valves, pressure relief valves, and spring stem exposed threads are widely used.
The instrument has a USB interface that can transmit the measurement data to the microcomputer to realize the scientific system management of data storage, query and display safety valve.

Equipped with an independent low pressure detection system, which can be adjusted steplessly according to the low pressure, it is more convenient to detect the low pressure safety valve and protect the precision pressure gauge from damage.

Reference standards:
GB/T12241 General Requirements for Safety Valves

GB/T12242 Performance Test Code for Pressure Relief Devices

GB/T12243 Spring Directly Loaded Safety Valves

Applications:
Performance test of DN32~400mm flange type safety valve, thread type safety valve, full lift/micro lift type safety valve, conventional thick and thin flange type safety valve, domestic/imported safety valve, spring directly loaded safety valve, safety valve with power auxiliary function and safety valve with supplementary load.

Technical parameter:
1. Testing pressure: 0-35Mpa

2. Control mode:manual control or computer control(according to customers' requirements)
3. Test medium: air

4. Test pressure output: one station

5. Diameter of test valve: DN 25-400mm

6. Pressure control accuracy: ≤± 1% F.S;

7. Pressure measurement accuracy: 0.4 level pressure gauge (higher pressure level is optional);

8. Measuring range of pressure gauge: 0-2.5MPa, 0-10MPa, 0-25MPa, 0-40MPa, 0-60MPa (optional as required)

9. Clamping mode: pneumatic driven liquid pump clamping;

10. Clamping force output range: 0-50 tons;

11. Sealing method: sealing with sealing ring;

12. Driving air source: 5-7bar, maximum air consumption: 0.8 m3/min;

13. Compressed air quality requirements: filtering accuracy: 15 μ m; Atmospheric dew point: 3 ℃; Oil content (PPM): ≤ 5.0
Shineeast Accessories of Safety Valve Test Bench consist of grinding plate, grinding head and auxiliary tools....
Shineeast online safety valve test machine is mainly used for testing and setting the set pressure of the boiler safety valve, according to the requirements of Guide for Application of Safety Valves for Utility Boilers (DL/T959-2005)....
Video